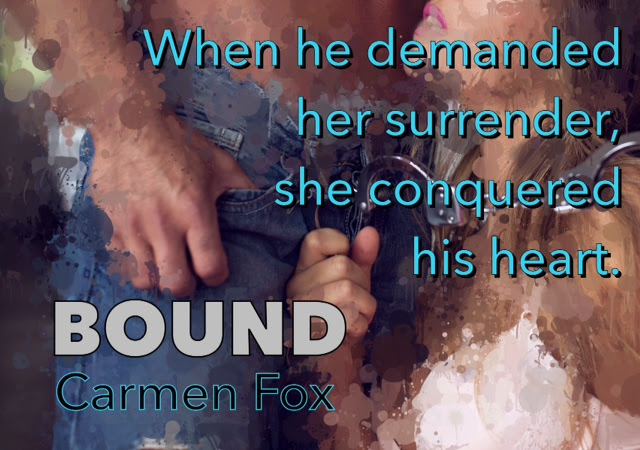 BOUND
The Silverton Chronicles
Book Two
Carmen Fox
Date of Publication:

April 30, 2016
Genre: Urban Fantasy Romance
Publisher: Smart Heart Publishing
Cover Designer: Ana Grigoriu
epub ISBN : 9780993199233
Bound by blood. Bound by loyalties. Bound by love.
Florian has it all: excellent fashion sense, a kickass job with his best friend, and a hard-won place among Silverton's werewolves. When a pack of females pads into their territory, Flo's alpha dispatches him to handle a merger. Total cakewalk. Except Keely, their alpha, has no intention of submitting her wolves to Flo's larger pack. Worse, a single glance from her baby blues sends his eloquence on vacation and his heartbeat into overdrive. His flirtations seem welcome too, but there's a snag. She doesn't know he's a vampire.
While Flo struggles with his conflicts—obey his alpha, or win over Keely—his estranged sire blasts into town with a catalog of radical ideas. And hanging out with unsophisticated werewolves didn't make the list.
With violence in the air and all sides testing his loyalties, Florian must bite back, even if showing his fangs costs him the girl.
Keely led me around the side of the camp to an area where ropes, wooden blocks, and tires lay strewn in the grass. Despite her heels sinking into the uneven ground, she kept her poise.
"We want to set up a few swings." She pointed at the grassy surface.
I took a quick count of the materials. "There's enough here for two swings, a seesaw and maybe a fort."
"A fort?" She gave a laugh, light and carefree.
I stood taller. "You have boys here, right? You gotta have a fort."
"If you say so. Come on then." She kicked off her shoes and strode barefoot toward a wooden beam.
She gestured to my right. "Will that do?"
"Yes." I picked it up. "Come on, give me a hand."
Together, we cut the ends of four sturdy posts at roughly twenty-degree angles. Sawing wasn't a hobby of mine, but it seemed appropriately manly. The kind of work a male werewolf might perform.
"Have you done this before?" She used her weight to hold down the long end, exposing more cleavage than a man holding dangerous tools should see.
"No. But I've read about it." I placed the saw and moved it back and forth until the corner dropped into the grass. "It didn't seem difficult."
"You read about building a swing set?" She exchanged one board for another, which got the same treatment. "That must have been a riveting read. You should join us for book club and tell us about it."
I chuckled. "My memory has a thing for remembering weird information. Like how to build the frame, but not where I read it. Sorry. Am I still invited?"
"Sure. We'll be discussing the complexities and metaphors of Little Women. You can bring the snacks."
"There is no book club, is there?"
She straightened and ran the back of her hand over her glistening forehead. "No. Maybe next month."
About The Author
Carmen lives in the south of England with her beloved tea maker and a stuffed sheep called Fergus. An avid reader since childhood, she caught the writing bug when her Nana asked her to write a story. She also has a law degree, studied physics for a few years, dabbled in marketing and human resources, and speaks native-level German and fluent Geek. Her preferred niches of geekdom are tabletop games, comics, sci-fi and fantasy.
She writes about smart women with sassitude, about pretty cool guys too, and will chase that plot twist, no matter how elusive.
Guarded (The Silverton Chronicles – Bk. 1) became a no. 1 bestseller in the vampire and werewolf mystery categories.
For details on this or Carmen's other work, visit her website at